As patients, we trust that our doctors, nurses, surgeons, and pharmacists are ethical, properly trained, and trustworthy. However, despite their extensive experience, sometimes these medical professionals make mistakes because they use poor judgment, are overworked or under-assisted, are negligent or malicious, or are simply under-qualified.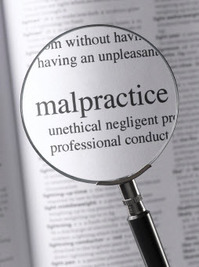 But whatever the reasons for these mistakes, they are always unacceptable – in fact, they are oftentimes punishable by law. This highly sensitive area of law, called medical malpractice (or medical negligence ), is a division of personal injury. If you believe you have been a victim of medical malpractice, read on to learn more and then contact a personal injury attorney in your area to find out how medical malpractice claims and cases are filed.
The Prevalence of Medical Malpractice
Medical malpractice is now considered between the fifth and eighth leading cause of death in the United States, according to the Henry J. Kaiser Family Foundation. Researchers report that roughly 5 to 10 percent of all patients admitted to hospitals this year will fall victim to medical negligence, whether in the form of a surgical mistake, wrong prescription, birth injury, or other type of error. Based on these hospitals' track records, this sounds about right: annually, up to 98,00 0 people die from preventable medical errors, 2 million patients contract infections in hospitals, and approximately 90,000 die from infections caused by inadequate sanitation methods (such as infrequent hand washing).
If you have been a victim of medical malpractice, you may be eligible to file a personal injury claim. One of the personal injury attorneys in your who is experienced in this field can help you build your case. Read on to learn more
Types of Medical Malpractice Cases and Claims
Any injury you have suffered at the hand of a physician, surgeon, nurse, hospital, medical laboratory or clinic, dentist, or other type of medical provider may have been caused by medical malpractice. Some of the most common type s of medical malpractice cases and claims include:
Pediatric malpractice
Radiation malpractice
Breast cancer malpractice
Plastic surgery malpractice
Dental malpractice
Cancer misdiagnosis
Amputation of the wrong limb
Prescription errors
Emergency room negligence
Anesthesia accidents
Uterine rupture
Birth complications
C-section complications
Misread X-rays/mammograms
Faulty blood transfusions
Hospital/ Medical Negligence
Failure to provide appropriate treatment
Treatment delays
Informed Consent and Medical Malpractice
For most increased-risk procedures, such as organ transplants, medical professionals require patients to sign consent forms prior to surgery. These consent forms prove that the victims are aware of the inherent risks of their procedures before undergoing them. However, medical professionals are not permitted to fall back on these informed consent forms if they provide substandard care. For example, if a patient undergoing liposuction signs a consent form but she dies while under the care of her doctor because he failed to catch an infection, the doctor can still be found guilty of medical malpractice or negligence.
If you signed a consent form for a medical procedure but you were nonetheless injured by your doctor or other medical professional's mistake, you may be able to file a medical malpractice claim. Consult one of the personal injury attorneys in your area to find out how to proceed.